Learn how to make these traditional German butter cookies with only 5 staple ingredients. Also known as Butterplätzchen in German, these old-fashioned sugar cookies simply make the best Christmas cookies. Enjoy them plain or decorated with your favorite icing for a delicious treat this Christmas season.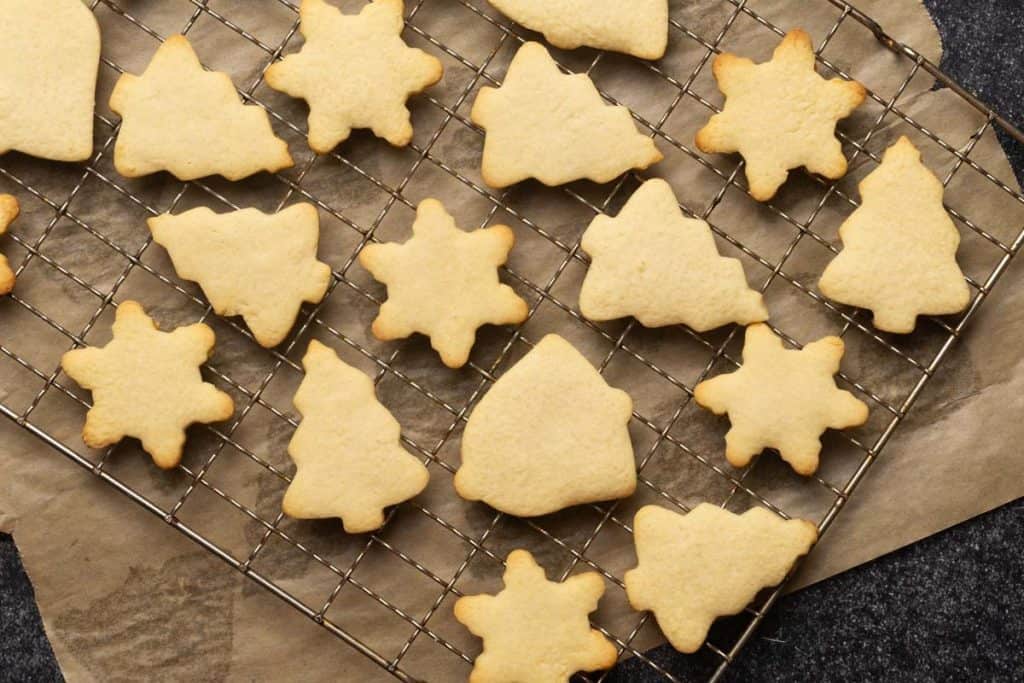 Related recipes
If you love these traditional German butter cookies, you won't want to miss my other simple cookie recipes perfect for Christmas time:
My Weihnachten guide has more festive German tips as well.
Why you'll love these German Plätzchen
Small batch recipe, makes about 36 cookies.
Kid-friendly recipe – quick and easy cookie recipe.
Butter cookies store well and are perfect dunkers.
If you love German spritz cookies, Heidesand, or shortbread cookies, you'll enjoy these delicate butter cookies as well.
It's my family's go-to Christmas cookie recipe and I hope it'll be yours too.
5-ingredient sugar cookies
Butter – Softened lightly salted butter is best for this recipe. Use high-quality butter for this recipe. You can't substitute it with margarine. Unsalted butter works but you will need to add a pinch of salt.
Sugar – Granulated white sugar is used in this recipe to sweeten the dough.
Vanilla extract – For a rich flavor throughout, use vanilla extract, fresh vanilla pods, or essence if needed. You can also use Dr. Oetker vanilla sugar if you're in Germany.
Egg – Eggs act as a leavening agent and help bind the dough. When baking, try to use room-temperature eggs for best results and choose free-range or farm fresh eggs if possible.
Flour – All-purpose flour or plain flour works best for this recipe.
How to make German butter cookies
Cream: In a large mixing bowl, cream together the softened butter and sugar.
Add wet ingredients: Beat in the vanilla extract and egg until an even mixture is formed.
Mix: Gradually add in the all-purpose flour and mix until a dough forms.
Chill: Form the dough into two discs and wrap each disc in plastic wrap or parchment paper. Then chill the disc in the refrigerator for about 30 minutes.
Preheat: While the dough chills, preheat the oven to 350F.
Roll out: Roll out the chilled dough with a rolling pin on a floured surface to about 1/4 inch thick. Cut the dough with cookie cutters. Place the cut cookie dough on a prepared baking sheet.
Bake: Once the dough is shaped, bake for 8-10 minutes.
Cool: Cool the German butter Christmas cookies for 5 minutes before transferring them to a cooling rack. Once cooled, you can decorate them with icing and sprinkles, or simply dust them with icing sugar.
Tips
Don't over-mix the flour: Once the dough forms stop mixing to prevent over-mixing and the dough not staying together properly.
Even if you're in a rush, it's important to chill the dough for easy handling. You will have much more success if you chill the dough for at least 30 minutes.
These cookies bake quickly and it's easy for them to over-bake. Be sure to keep a close eye on the cookies and adjust the cooking time based on your oven.
Double the batch and freeze half of the dough for fresh butter cookies later on this Christmas season.
Serving
There is a wide variety of ways to serve authentic German butter cookies. They make great gifts during the holiday season for neighbors and friends. Place them in a tin container for a fun look. You can also make this a fun family activity by decorating the cookies with fun icings, sprinkles, and Christmas-themed candies.
Serve with a hot Christmas drinks such as this alcohol-free mulled wine or winter spiced tea.
Variations
Make these holiday butter cookies your own by trying out these fun variations:
Dipped and drizzled: Dip the butter cookies in melted chocolate. You can even drizzle the top with melted chocolate for a decorative look. Use milk, dark, or semi-sweet chocolate. Allow the chocolate to set before serving.
Cookie sandwiches: Use the cutout cookies to make a tasty cookie sandwich. Use a creamy filling like buttercream frosting, chocolate ganache, or even raspberry jam.
Almond: Give these Butterplätzchen an almond flavor by substituting the vanilla for almond extract.
Christmas tree ornaments: Turn these German butter cookies into edible decorations.
FAQ
Can I freeze butter cookie dough for later use?
Yes, you can freeze this dough to use later. Before freezing, form the dough into a disc shape. Wrap in plastic wrap and freeze for up to two months. Thaw in the refrigerator before shaping.
How do you store butter cookies?
Store the baked cookies in an air-tight container or cookie tin at room temperature. These cookies can last up to 2 weeks in a cool and dark container.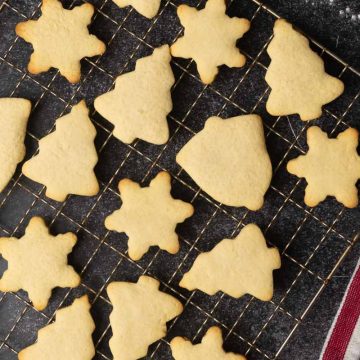 Traditional German Butter Cookies (Butterplätzchen)
Learn how to make these traditional German butter cookies with only 5 staple ingredients. Enjoy them plain or decorated with your favorite icing for a delicious treat this Christmas season.
Ingredients
1/2

cup

butter

softened

1/2

cup

sugar

1

tsp

vanilla extract

1

egg

2

cups

all-purpose flour
Instructions
In a large bowl, cream together the soft butter and sugar until light and fluffy, using a hand mixer or stand mixer.

1/2 cup butter,

1/2 cup sugar

Beat in the vanilla extract and the egg until well incorporated. Scrape down the sides of the bowl to ensure everything is mixed evenly.

1 tsp vanilla extract,

1 egg

Gradually add sifted all-purpose flour to the wet ingredients, mixing on low speed until a soft dough forms. Be careful not to overmix; stop as soon as the dough comes together.

For easier handling, chill the plain dough in two portions wrapped in clingfilm in the refrigerator for about 30 minutes. Shape the dough into discs to be able to roll it out easily once chilled.

Preheat your oven to 350°F (175°C). Line a cookie sheet with parchment paper or a silicone baking mat.

Take one portion of the chilled dough and roll it out on a floured surface to about 1/4-inch thickness. Use cookie cutters to cut out different shapes. Place the cut-out cookies onto the prepared baking tray, leaving some space between each.

Bake the shaped cookies in the preheated oven for 8-10 minutes on the middle rack, or until the edges are lightly golden. Keep a close eye on them to prevent overbaking.

Allow the cookies to cool on the baking sheets for 5 minutes before transferring them to a wire rack to cool completely.

Once the cookies are completely cooled, you can decorate them with icing, sprinkles, or colored sugar to add a festive touch.

Store the shaped butter cookies in an airtight container at room temperature. They can be stored for several days.
Notes
Check out the cream-colored box in the recipe for more tips on how to make this recipe.
Nutrition
Calories:
61
kcal
Carbohydrates:
8
g
Protein:
1
g
Fat:
3
g
Saturated Fat:
2
g
Polyunsaturated Fat:
0.1
g
Monounsaturated Fat:
1
g
Trans Fat:
0.1
g
Cholesterol:
11
mg
Sodium:
22
mg
Potassium:
10
mg
Fiber:
0.2
g
Sugar:
3
g
Vitamin A:
86
IU
Calcium:
3
mg
Iron:
0.3
mg