Are you craving a rich hot cacao drink? Follow this easy recipe to make hot chocolate at home using pure chocolate powder. Raw cacao powder or paste, your milk of choice, maple syrup, vanilla, and cinnamon is all you need to whip up this tasty, comforting rich hot cocoa.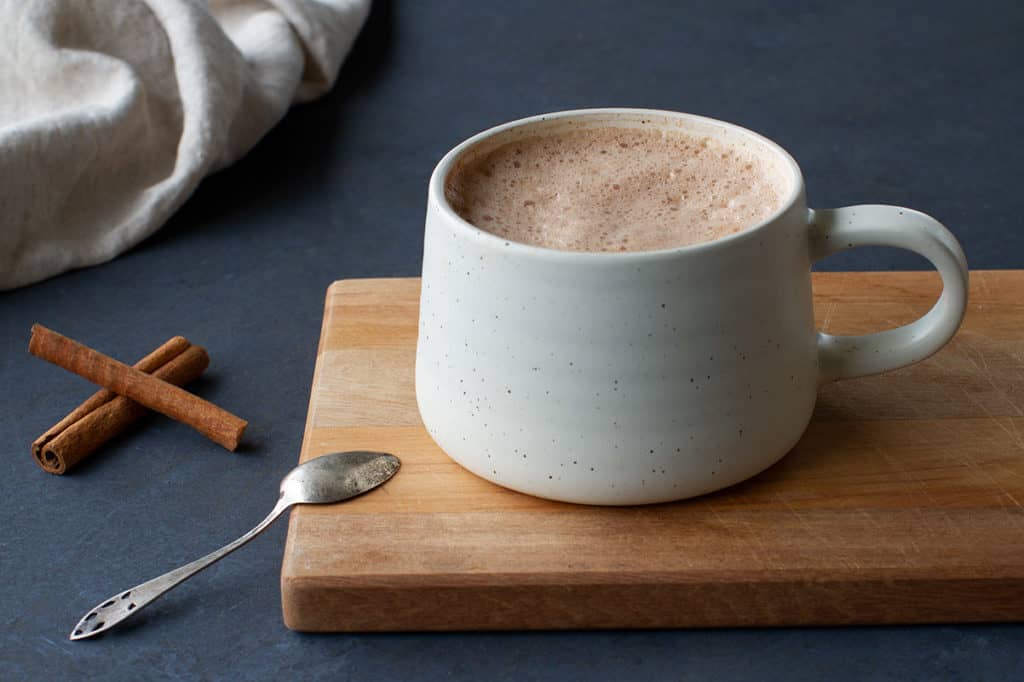 Related Recipes
Calling all chocolate lovers, check out the following recipes:
What's the difference between cacao and cocoa?
Cacao beans (pronounced "ka·kau") derive from the Theobroma cacao trees. Cacao is the raw, unprocessed version of cocoa, making it the purest form of chocolate you can consume. It is often referred to as ceremonial grade cacao and offers a great source of antioxidants, iron, fiber, and magnesium.
Raw cacao benefits
Raw cacao, cocoa, and dark chocolate potentially offer several health benefits due to their rich nutritional profile and antioxidant content (flavonoids) including:
Improved brain functions (mood and focus)
Enhanced heart health
Increased antioxidant intake
Improved blood circulation
Anti-inflammatory effects
Various researchers are working on proving these potential health benefits including Harvard University the Flaviola Research project, and the National Library of Medicine.
Ingredients
Raw cacao
This easy recipe celebrates the taste and health benefits of raw cacao powder (fair trade) but you can substitute it with cacao paste or even regular cocoa powder if that's what you have on hand when the chocolate craving hits.
I use 2 tbsp of raw cacao powder in my hot chocolate recipe as I prefer it less sweet and super chocolatey but you can use only 1 tbsp if you prefer a milky hot chocolate.
Milk
This recipe includes whole milk but you can use any plant-based milk including coconut milk, oat milk, or almond milk. Use hot water for a pure cacao drink.
Maple syrup
Maple syrup is great for sweetening this hot chocolate but you can substitute it with honey, coconut sugar, or cane sugar. Increase the amount of maple syrup for a sweeter drink.
Cinnamon
A sprinkle of cinnamon powder adds aromatic spice and depth in flavor to this drink but you can omit it as well.
Vanilla
Vanilla extract creates a complex flavor. You can substitute it with vanilla essence or pure beans. Make sure to reduce the sweetener if you are using vanilla syrup.
Salt
This is an essential ingredient to round out the flavors. Use a smidgen or a pinch of salt if you enjoy the salty, sweet flavor combination.
Cacao butter (optional)
You can add 1 tsp of cacao or cocoa butter or coconut oil to your homemade hot chocolate to give your hot cacao drinks some extra richness.
Cayenne pepper (optional)
Add a smidgen of cayenne pepper to your hot cacao drink for some heat.
Method
A milk frother works well to fully combine all ingredients in one go. Simply use a small whisk if you don't have one on hand to thoroughly combine all ingredients. You can also use a blender on low speed.
When stirring the dry ingredients in by hand I suggest mixing them first in a small bowl and adding them slowly while whisking the milk to avoid lumps.
Heat the hot chocolate in a small saucepan on the stove or in the microwave on low heat until the hot milk is close to a simmer. Do not boil the cacao drink to retain all its nutritional benefits.
Serving
Serve the hot cacao drink with an extra dusting of raw cacao or cinnamon powder, or chocolate nibs. Add a dollop of whipped cream or mascarpone cream for some extra indulgence. Marshmallows are a classic match.
If you'd like to serve cacao as part of a cacao ceremony, check out my ceremonial cacao drink recipe.
FAQ
Can you prepare hot cacao ahead of time?
You can meal prep this recipe by making multiple servings at a time. Simply store the hot chocolate drink in the fridge for 2-3 days but make sure you thoroughly stir it before pouring it into individual cups as the cacao will set at the bottom.
Does cacao have caffeine?
Yes, cacao does contain caffeine. Depending on the type of cacao, the amount of caffeine in cacao varies. Dark chocolate has more caffeine than milk chocolate.
Hot Cacao Drink
Follow this easy hot cacao drink recipe to make hot chocolate at home in 10 minutes.
Equipment
Small saucepan

Measuring cup

Measuring spoons
Ingredients
1

cup

milk

or your preferred plant-based option

1 1/2

tbsp

raw cacao powder

1

tbsp

maple syrup

1/4

tsp

vanilla essence

1/8

tsp

cinnamon powder

1

smidgen

salt
Instructions
Warm the milk in a small saucepan on the stove or in a microwave.

Add the raw cacao powder, vanilla essence, maple syrup, cinnamon, and salt while continuously stirring the milk until well combined.

1 1/2 tbsp raw cacao powder,

1 tbsp maple syrup,

1/4 tsp vanilla essence,

1/8 tsp cinnamon powder,

1 smidgen salt

Heat the cacao drink until it starts simmering. Avoid boiling it.

Remove the hot chocolate from the heat and add it to your favorite mug.

Garnish with whipping cream and a dusting of cinnamon or cacao. Enjoy!
Notes
Check out the cream-colored box in the recipe for more tips on how to make this hot cacao drink.
Nutrition
Calories:
221
kcal
Carbohydrates:
30
g
Protein:
9
g
Fat:
9
g
Saturated Fat:
5
g
Polyunsaturated Fat:
0.3
g
Monounsaturated Fat:
2
g
Cholesterol:
29
mg
Sodium:
484
mg
Potassium:
528
mg
Fiber:
3
g
Sugar:
24
g
Vitamin A:
396
IU
Vitamin C:
0.01
mg
Calcium:
334
mg
Iron:
1
mg