Hosting a wine tasting party at home is the perfect way to combine socializing with exploring the world of wine. Whether you're a wine enthusiast or a novice, this guide walks you through the essentials of throwing a successful wine tasting party. From creative tasting theme ideas to responsible hosting practices, food, supplies, and wine tasting tips I've got you covered.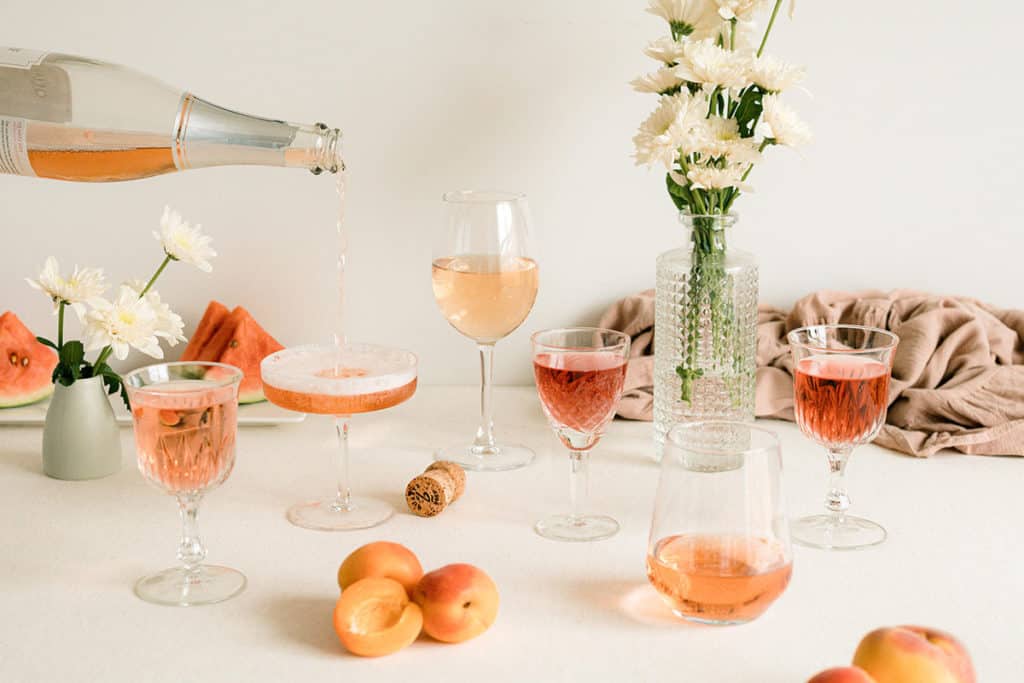 Check out the following wine guide for more vinous tips and tricks: Rosé wine, Pinot Noir food pairings, Sauvignon Blanc, Méthode Traditionnelle, and wine quotes.
Wine tasting themes
Variety – Sample what a specific wine variety tastes like from different regions. For example, try comparing Pinot Noir from New Zealand's Central Otago, California's Russian River Valley, Oregon's Dundee Hills, Burgundy's Côte de Nuits, or California's Sonoma Coast.
Value – Choose a specific dollar amount. It is always great to find a new score at a great price point.
Style – Taste through a series of similarly styled wines. For example, select an array of "crisp, dry white wines" or "rich, bold reds", or "dessert wines."
Region – Choose a specific region and taste through several wines unique to that winemaking area.
Vertical – Try finding multiple vintages of the same wine. This might end up being a pricier or more difficult-to-find lineup, but it is enlightening to taste how much age and vintage variation impact a wine's flavor profile.
Blind Tasting – Pour wines into decanters or pitchers, labeling them by number, or simply wrapping the bottles in foil or serving from brown bags, disguising their identity. This is a fun and conversationally interactive way to really taste wines objectively. If you have a trusted wine shop with knowledgeable staff, have them select the wines for you, so even you are in on the blind!
BYO – All else aside, having everyone bring a bottle of wine which can be a random pick, a recent favorite, or a wacky wine label to add some extra fun.
Setting
Set up a comfortable and well-lit space for the tasting. Provide comfortable seating and enough table space for all wine tasting supplies.
Wine tasting supplies
Wine – A typical wine tasting pour is around 50 ml (1.7 ounces). A 750ml bottle of wine equates to about 15 tasting pours. This allows tasters to sample a variety of wines without consuming too much in one go.
Glassware – One glass per person is absolutely fine rinsing them in between pours. But if possible, I suggest having two glasses per person so they can better taste and compare wines simultaneously.
Palate cleansers – Set out plenty of water, water crackers, or a simple bread to clean your palate.
Spit buckets – Allow your guests the opportunity to get rid of unwanted wine.
Notes – Provide pens and paper for taking wine notes or print the list of wines being served with space for personal notes.
White background and clear glassware – Color is an important aspect when comparing wines, so avoid tinted glassware, provide optimal lighting, and provide a white background.
Wine tasting food
I don't recommend eating during the wine tasting, other than the bread or crackers that cleanse your palate. Decide whether you want to provide your guests with a light meal before the tasting, serve dinner after, or offer appetizers or dessert after the tasting.
As a responsible host, you should provide some sustenance alongside the alcohol. Share your plans with your guests when inviting them so they don't arrive with an empty stomach when you're only serving light hors d'oeuvres.
If you're feeling adventurous, you can do some extra research on how the acids, tannins, and sugar in foods interact with wines. Try tasting bitter chocolate, salted nuts, acidic lemon, or creamy cheese alongside the same wine to see how wine reacts to various components. This is an excellent lesson in food and wine pairing.
How to serve wine
Depending upon which sort of wine tasting party you're hosting, the serving order of the wines may not matter that much at all, but if you have the opportunity, think about lining up the wines in this order:
Sparkling wines
Light-bodied white wines
Full-bodied white wines
Rosé wines
Light-bodied red wines
Full-bodied red wines
Dessert wines
Serve the wines at their optimal temperature so that they show best: sparkling wines 40-45 degrees, white wines 40-50 degrees, and red wines 55-65 degrees.
How to taste wine
You don't have to be a sommelier or wine expert to run a wine tasting. Follow these easy 5 steps to guide your guests through the selection of wines:
Introduce the wine: Simply tell your guests what wine they're going to drink unless it's a blind tasting of course. You can typically find tasting notes on the back label as well as on retailers' and producers' websites.
Color: Hold the glass against a white background and ask your guests to assess the color of the wine.
Swirl & sniff: Have them hold the glass at the stem and swirl it around for a few seconds to let the wine "breathe," and then make them smell the wine to get a better sense of the flavor.
Sip: After that, your guests should take a small sip of the wine, swirl it around their mouths for several seconds, and then either swallow it or spit it out.
Take note: Ask your guests to either share their thoughts about the wine openly or write them down.
Last, but not least, make sure everyone enjoys wine responsibly and has a ride home organized!