Are you looking to throw a fun Rosé themed party this summer? Get ready to Rosé all day with these top pink party tips including ideas around Rosé decor, wine selection, food pairings, activities, and more.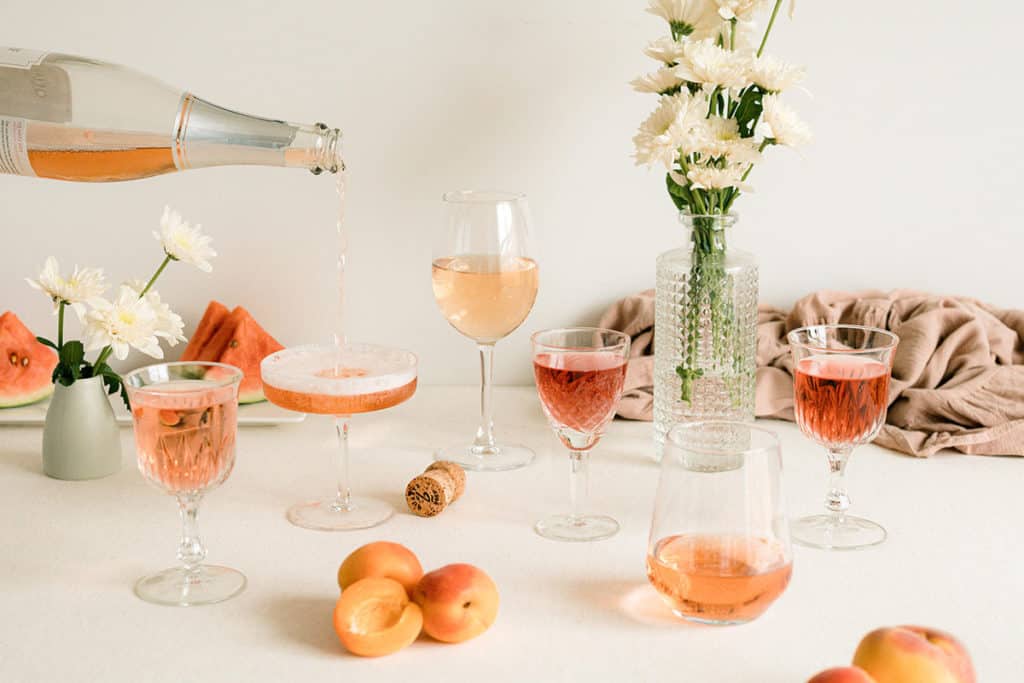 Related articles
For more Rosé wine tips, make sure to check out the following articles:
Invitations
Set the date: Any day is a great day for a pink party but some occasions simply call for a Rosé themed event. National or international Rosé day, a girls' get-together, galentines, bridal shower or hen's night, and baby showers are all great occasions for a Rosé party.
Invite Rosé lovers: Fully celebrate the pink drink by inviting a diverse group of friends who love Rosé and are open to trying different types of wines.
Pretty-in-pink decor
Think pink. Set up the perfect Rosé tasting party with plenty of pink and blush decor. A pink photo booth, blush and golden balloon garland, rose flower arch, and some quirky Rosé quotes color your event nicely.
Fun wine accessories in 50 shades of pink such as Champagne coupes, ice coolers, and trays create a lush atmosphere.
Add edible pink decor including pink candy floss, fresh berries, and candies to sweeten things up.
Rosé wine bar
The focal point should be the rosé bar where your guests can sample different styles of Rosé to find their favorite Rosé drink. A large table or bar cart works well.
Your Rosé wine bar can feature a variety of styles of Rosé of course. Make sure to clearly label the wines by themes to help your guests find the right pink drink.
Here are a few Rosé tasting themes:
Styles
While the go-to Rosé wines are likely still wines, make sure to include sparkling options such as Rosé champagne, cava, pét-nat, and prosecco as well. Sneak in an alcohol-free Rosé to see if anyone notices the difference and to have a non-alcoholic Rosé wine on offer as well.
Sweetness
Bone dry, dry, off-dry, medium-sweet, sweet – Rosé comes in almost as many sweetness levels as shades of pink. I suggest including at least a dry, off-dry and sweet option to cover your bases.
Check with your retailer or the tasting note online for some help in determining the sweetness of the wines. Rosé wine can have between 1 and 120 grams of residual sugar per liter which gives you a good indication of where the wine is at.
Country / Regions
France, Spain, USA, and Italy are producing the lion's share of Rosé consumed in the world. Consider offering a selection of wines by these countries and the following Rosé regions in particular:
Provence / France
Loire Valley / France
Champagne / France
Rioja / Spain
Piedmont / Italy
California / USA
Marlborough / New Zealand
Grape varieties
Pale-pink, medium-bodied Rosé wines from Provence are typically made from Grenache, Syrah, Carignan, Cinsault, and Mourvèdre.
Other grape varietals that are used to make top-notch Rosé are:
Pinot Noir
Sangiovese
Malbec
Merlot
Tempranillo
Glera grapes (prosecco)
Rosé mixed drinks
Mix it up with some Rosé cocktails. Here are some ideas:
Rosé mimosa
Rosé royal
Rosé sangria
Rosé spritz
Frosé
BYO
Rather than providing all wines yourself, ask your guests to bring an interesting Rosé along. You're bound to end up with an eclectic selection of wines.
Perfect Rosé food pairings
Luckily Rosé is the perfect party guest as the wine style pairs exceptionally well with a variety of party foods such as charcuterie boards, cheese platters, anti-pasti selections, pizza, and tapas to name a few. My deconstructed burrata bruschetta is a great example.
Serve Rosé desserts. Prosecco panna cotta, Rosé cake, jelly, or cupcakes all make delicious party food.
Rosé party activities
Blind tasting: When blind tasting wine you're able to evaluate a wine's quality without being influenced by its appearance, price, or reputation. Simply cover the bottles in paper bags and remove the caps to remove all clues as to which Rosé it might be. Number the wines and give your guests a notepad and pen to record their thoughts about the wines. You can turn it into a guessing game and award points for correct matches.
Rosé degustation: Create a tasting menu of small bites matched with different types of Rosé.
Invite an expert: Hire a professional wine expert or sommelier to run the tasting and provide more information on the Rosé wines.
Rosé fun: Create a fun atmosphere with an Instagram-worthy photo booth, a Rosé quiz, or Rosé quotes.
How to be a responsible host
Quality over quantity. Make sure you're offering small tasting pours rather than full servings so your guests can try a variety of wines. Make sure you have food, plenty of water, and non-alc drinks throughout the whole event.
To ensure everyone gets home safely, offer to call a taxi or allow your guests to spend the night if needed.
For more wine tips, make sure to check out the following posts: