An old-fashioned recipe for bread and butter pudding using sourdough brioche and no cream. Turn stale, leftover brioche into a delicious dessert by baking it in a vanilla and cinnamon spiced egg and milk mixture. Almond butter and sliced almonds add extra flavor and texture to this traditional English bread and butter pudding.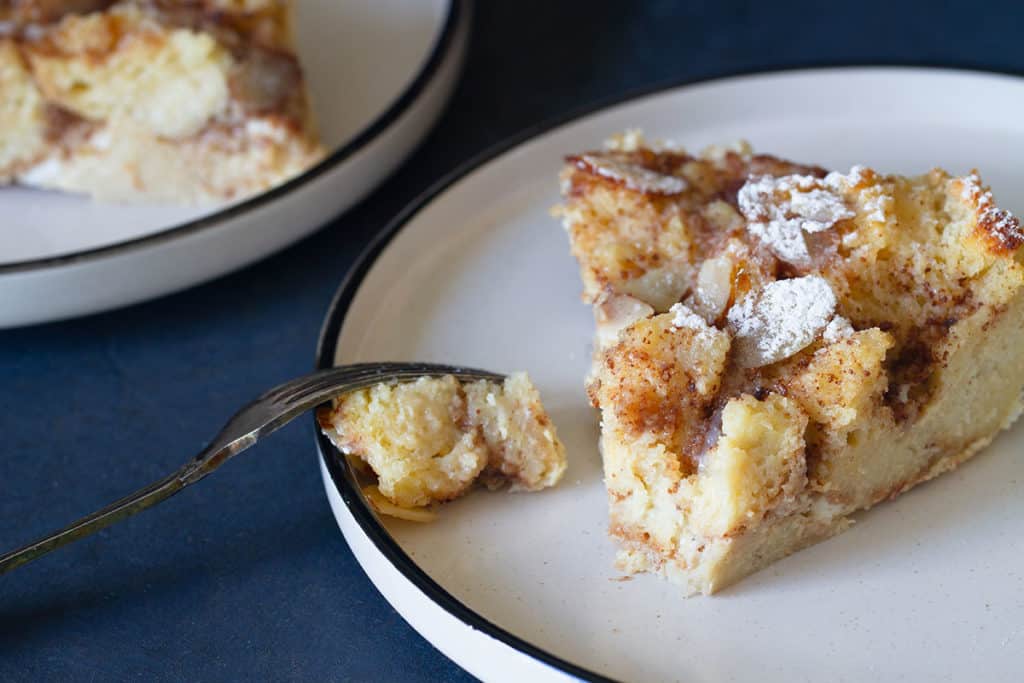 Why you'll love this recipe
Quick and easy: Bread and butter pudding is as simple as soaking your leftover bread in a flavored milk, egg, and butter mixture, and baking it in the oven. You'll have a delicious dessert in just over half an hour.
Staple ingredients: Did you know that classic bread and butter pudding is typically made without cream? Milk, butter, eggs, and some spices are all you need. Staple ingredients you'll most likely have in your pantry and fridge.
Reduce food waste: Especially homemade sourdough brioche shouldn't go to waste given the time you've spent making it. This is a great recipe to save bread from going to waste.
If you like this delicious recipe, make sure to check out my creamy rice pudding, sourdough French toast, and whey pancakes as well.
Ingredients
Sourdough brioche – I use 4 large sourdough brioche buns or half of my sourdough brioche loaf for this recipe. Alternatively, you can use regular, yeasted brioche buns or slices, sourdough, or yeasted bread. Just soak sourdough or regular bread longer in the egg mixture as brioche absorbs it fairly quickly.
Eggs – I recommend using medium-sized free-range eggs at room temperature.
Sugar – White castor sugar works well for this recipe. You can also use brown sugar for a deeper flavor. Icing or powdered sugar is used as a garnish.
Butter – Melted, salted butter is used in this recipe. You can also opt for unsalted butter, simply add a pinch of salt to the egg mixture in that case.
Milk – Full-fat milk works well for this recipe. You can substitute it with lower-fat options if needed.
Vanilla – Vanilla extract gives this bread pudding depth of flavor. You can substitute it with vanilla essence or fresh vanilla beans.
Cinnamon – Ground cinnamon again adds extra flavor. You can omit this or reduce the quantity.
Almonds – Smooth almond butter and slivered almonds give this recipe a nutty flavor and add extra texture. You can omit those for a nut-free version.
Bread and butter pudding in 3 simple steps
Make the egg mixture.
Soak the brioche or bread in the egg mixture.
Bake it in the oven for 30 minutes. Enjoy!
Tips
If your sourdough brioche is particularly stale, soak it in the egg mixture for 15 minutes instead of 5.
Although incredibly delicious as is, this recipe can be tweaked in MANY different ways. Keep scrolling for topping ideas and variations.
Meal-prep this delicious dessert by freezing it before or after baking.
Serving
Vanilla ice cream
Whipped cream
Maple or golden syrup
Caramel sauce
Vanilla custard
Maple roasted pecan or walnuts
Variations
Dried fruit: Raisins are traditionally included in bread and butter pudding and make a great addition to this recipe. You can also add dried dates, currants, or apricots for a fruity twist.
Chocolate: Sweet, semi-sweet, or white chocolate chips or chunks all make tasty additions to this dessert. You can also add dollops of Nutella before adding the egg mixture. Some shaved chocolate also works well as an alternative garnish to icing sugar.
Fresh or frozen fruit: Fruit makes such a great addition to bread puddings. Red berries including blueberries and raspberries, cherries, and plums work particularly well. Just make sure you drain them thoroughly especially if you use frozen options. Apple, pear, peach, pineapple, banana, and rhubarb are popular options as well.
Alcohol: Baileys, amaretto, and egg nog all make great additions to bread and butter puddings for an adult-only dessert. Simply pour the chosen alcohol over the brioche pieces when you're adding the melted butter.
Christmas: Make it a festive dessert by adding star anise, cardamom, clove, and ginger spices to the egg mixture.
Pumpkin: You can add some pumpkin puree and spice to the egg mixture for a Fall-inspired bread and butter pudding.
Dietary Variations
Dairy-free: To make this recipe dairy-free, simply swap out the milk with plant-based milk such as oat or almond milk.
Nut-free: Omit the almond butter and slivered almonds for a nut-free version of this recipe.
Gluten-free: Use a gluten-free brioche or white bread to cater for gluten-intolerant people.
Sign-up for my newsletter for more from-scratch recipes.
FAQ
Can I freeze bread pudding before baking it?
Yes, you can freeze it for up to 3 months. Just make sure you're placing it in freezer-proof container leaving some room at the top as the mixture will slightly expand. Defrost it slightly at room temperature and transfer it to an oven-proof dish before baking it in the oven. It will need to be baked longer as the pudding needs to defrost first. Check it after 30 minutes and bake it until the egg mixture is set and everything is piping hot.
How long does bread and butter pudding keep?
You can store it in an airtight container in the fridge for up to 4 days. For longer-term storage, you can keep it in the freezer for up to 3 months.
Can I reheat bread and butter pudding?
Yes, you can easily reheat it in the oven or microwave.
Recipe
Sourdough Bread Pudding
An easy recipe for bread and butter pudding using leftover sourdough brioche. Make this delicious dessert in just over half an hour.
Ingredients
4

brioche buns

4

eggs

2 1/2

cups

milk

1/2

cup

sugar

1

tsp

ground cinnamon

1

tsp

vanilla extract

2

tbsp

almond butter

smooth

3

tbsp

butter

melted

1/2

cup

slivered almonds

1

tsp

icing sugar
Instructions
Preheat the oven to 180C/356F.

To make the egg mixture, whisk the eggs in a large bowl and add the milk, sugar, vanilla, cinnamon, and almond butter. Combine everything well.

4 eggs,

2 1/2 cups milk,

1/2 cup sugar,

1 tsp ground cinnamon,

1 tsp vanilla extract,

2 tbsp almond butter

Grease a medium casserole dish or baking tin with some butter and add the sourdough brioche buns. Pull them apart into 2x2cm pieces by hand and distribute them evenly.

Pour over the melted butter followed by the egg mixture. Sprinkle over the slivered almonds. Let it sit for 5 minutes for the egg mixture to fully soak through the sourdough brioche.

3 tbsp butter,

1/2 cup slivered almonds

Bake the sourdough bread pudding in the oven for 25 minutes or until the egg mixture is fully set. Remove it from the oven and let is cool slightly. Add a generous dusting of icing sugar before serving with vanilla ice cream. Enjoy!
Nutrition
Calories:
547
kcal
Carbohydrates:
51
g
Protein:
17
g
Fat:
32
g
Saturated Fat:
14
g
Polyunsaturated Fat:
3
g
Monounsaturated Fat:
8
g
Trans Fat:
0.2
g
Cholesterol:
232
mg
Sodium:
384
mg
Potassium:
297
mg
Fiber:
2
g
Sugar:
23
g
Vitamin A:
980
IU
Vitamin C:
0.01
mg
Calcium:
218
mg
Iron:
2
mg