These soft whey waffles can be prepared in 20 minutes, perfect for meal prepping or busy mornings. Utilizing liquid whey leftover from yogurt making and Greek yogurt, these quick and easy waffles are perfect for breakfast, snacks, or even dessert. Packed with protein, these soft whey waffles are a delicious and nutritious way to use up leftover whey.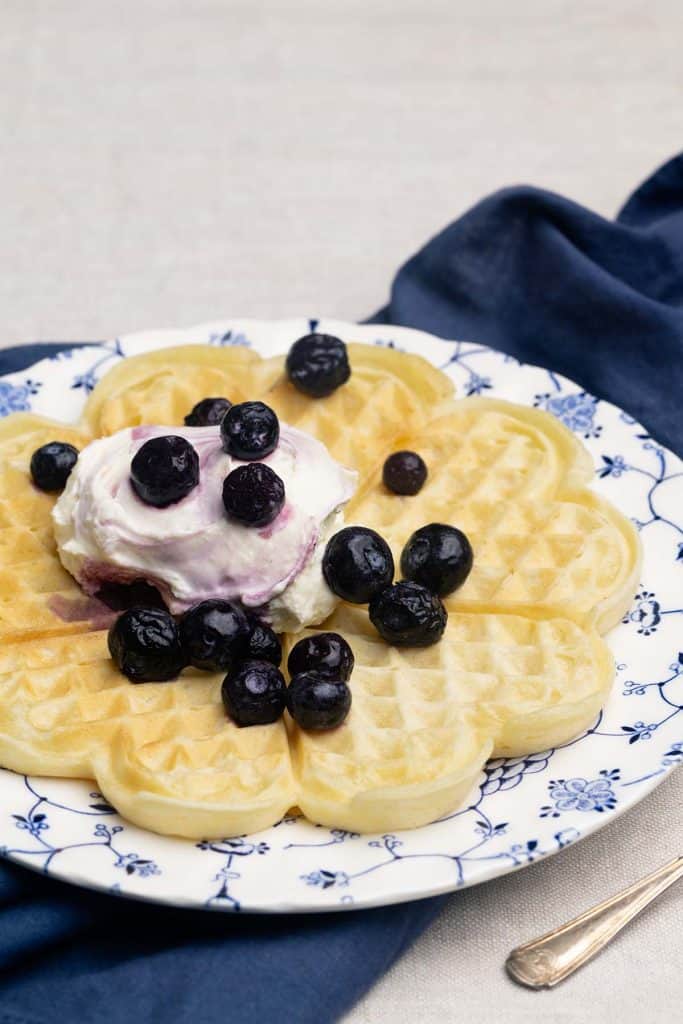 Why you'll love this recipe
Delicious soft waffles in 20 minutes
Protein-packed
Perfect meal-prep breakfast
Ingredients
Liquid whey – You'll need 2 cups of leftover liquid whey from yogurt or cheesemaking. You can substitute the liquid whey with milk if needed.
Greek yogurt – Yogurt in waffles is a fantastic addition that enhances the texture and flavor. It adds moisture, tenderness, and a slight tanginess to the waffles.
Butter – Unsalted butter works best but you can also use salted butter or substitute it with 1/4 cup of sunflower oil if needed.
Egg – The egg in waffle batter provides binding, moisture, leavening, and flavor.
Flour – All-purpose flour works best but you can also use wholewheat flour for a
Baking powder – It acts as a leavening agent and gives the waffles their fluffy texture.
Maple syrup – The syrup adds a subtle sweetness to the waffles. You can add more if you prefer sweeter waffles or substitute it with sugar or honey.
Vanilla – Vanilla essence or extract adds richness and flavor. You can omit it if you prefer plain waffles.
Whey waffles in 3 easy steps
Melt the butter and thoroughly combine all wet ingredients using a whisk.
Add dry ingredients slowly to create a lump-free batter.
Preheat the waffle iron and bake the waffles.
Tips
Avoid Overmixing: To achieve a soft and fluffy texture, be cautious not to overmix the batter. Overmixing can lead to gluten development, resulting in denser waffles.
Preheat the waffle iron: Make sure the waffle iron is properly heated before pouring the batter so that the waffles rise and cook evenly and most importantly peel off easily from the iron once baked.
Variations
There are several variations you can try to add different flavors to your whey waffles. Here are a few ideas:
Chocolate Whey Waffles: Add 2 tbsp of cocoa powder and extra maple syrup to the batter for a chocolatey twist. Serve with fresh berries or a drizzle of chocolate sauce.
Pumpkin Spice Whey Waffles: Mix in 1 tsp of pumpkin spice to the batter for warm and aromatic waffles. Top with a dusting of cinnamon and icing sugar.
Lemon Blueberry Whey Waffles: Fold in fresh or frozen blueberries and a splash of lemon juice or zest to the batter for a burst of fruity and tangy flavors. Serve with a sprinkle of powdered sugar and extra blueberries on top.
Cinnamon Waffles: Add 1 tsp of ground cinnamon to the batter for a warm and rich cinnamon flavor. Top with cinnamon mascarpone cream.
Sign-up for my newsletter for more from-scratch recipes.
FAQ
How do you meal-prep waffles?
To meal-prep waffles, you can make the batter 1-2 days ahead and store it in the refrigerator or cook a batch of waffles and freeze them. Reheat the frozen waffles in a toaster or oven when ready to eat.
Can you freeze waffles?
To freeze waffles, allow them to cool and separate, stack them with parchment paper in between, and store them in an airtight container in the freezer for up to 3 months in the freezer.
Whey does liquid whey make the waffles soft and chewy?
Liquid whey contains proteins that contribute to the softness and chewiness of these waffles. These proteins form a network that traps moisture, providing a tender texture, while also providing structure and elasticity for chewiness. Additionally, the lactose in liquid whey enhances the browning and flavor of these whey waffles.
My soft whey bread and whey pancakes are also great ways to use leftover whey.
Recipe
Soft Whey Waffles
Quick and easy soft whey waffles that you can whip up in 20 minutes with leftover liquid whey and Greek yogurt.
Ingredients
1/4

cup

butter

unsalted

2

cups

liquid whey

1/2

cup

Greek yogurt

1

egg

1

tsp

vanilla extract

2

tbsp

maple syrup

2

cups

all-purpose flour

2

tsp

baking powder
Instructions
Melt

1/4 cup butter

in a small saucepan over medium heat on the stove or in the microwave.

In a medium-sized mixing bowl, whisk together melted

1/4 cup butter

,

2 cups liquid whey

,

1/2 cup Greek yogurt

,

2 tbsp maple syrup

,

1 tsp vanilla extract

, and

1 egg

until well combined.

2 cups liquid whey,

1 egg,

1 tsp vanilla extract,

2 tbsp maple syrup

Gradually add

2 cups all-purpose flour

2 tsp baking powder

to the wet ingredients, stirring until just combined. Be careful not to overmix the batter.

2 cups all-purpose flour,

2 tsp baking powder

Allow the batter to rest for about 5 minutes. This helps activate the baking powder and allows the batter to thicken slightly.

Preheat the waffle iron and lightly grease it with butter.

Pour a portion of the batter onto the preheated waffle iron, following the manufacturer's instructions for the recommended amount. Close the waffle iron and cook until golden brown and crisp. Mine take around 3 minutes to cook on medium heat.

Carefully remove the waffle from the iron and repeat the process with the remaining batter.
Notes
Check out the cream-colored box in the article for more tips on how to make these whey waffles.
Nutrition
Calories:
304
kcal
Carbohydrates:
31
g
Protein:
28
g
Fat:
8
g
Saturated Fat:
4
g
Polyunsaturated Fat:
0.5
g
Monounsaturated Fat:
2
g
Trans Fat:
0.2
g
Cholesterol:
81
mg
Sodium:
206
mg
Potassium:
154
mg
Fiber:
1
g
Sugar:
5
g
Vitamin A:
280
IU
Calcium:
176
mg
Iron:
3
mg