Meatballs wraps make an incredibly quick and easy lunch or dinner. You can put them together with leftover or meal-prepped meatballs in less than 10 minutes. All you need is tortillas, salad, a yummy sauce, and meatballs of course. No need to spend your hard-earned money at Subway or Pret!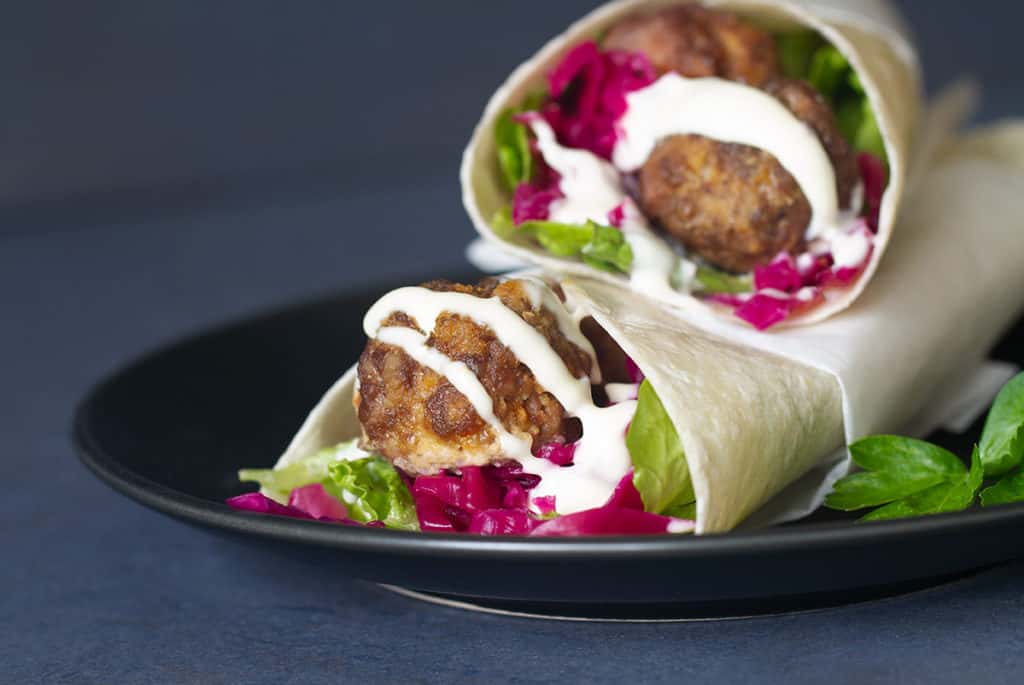 For more easy recipes, check out my cheese and bacon turnovers and lemon chicken tray bake as well.
What to put in a meatball wrap
Meatballs / beef – Pan-fried, grilled or oven-baked beef meatballs work well for this easy meal. I use my easy beef meatball recipe but lamb, chicken, turkey, or pork meatballs are great choices too. You can add them hot or cold just keep in mind that the wrap won't last as long if you are adding hot meatballs as the lettuce will wilt more easily.
Wraps / tortillas – I suggest using small, soft flour tortilla wraps but wholemeal wraps, Turkish pide flatbread or pita pockets are great options too. Or simply leave it all together and make meatball lettuce wraps as a carb-free, keto-friendly meal.
Salad / lettuce – Iceberg lettuce adds a crunchy texture to this dish. Any type of lettuce or even baby spinach are great alternatives.
Extra flavor / sauerkraut – I use my red cabbage sauerkraut to add some tangy flavors and additional nutrients. Pickled onions, tomatoes, or cucumbers can also add some extra flavor and texture.
Sauce / aioli – A tasty sauce such as aioli completes this easy dish but plain mayonnaise, a healthy yogurt dressing, hummus, salsa, or even spicy siracha can take these wraps from average to amazing. You can also add meatballs cooked in an Italian tomato or classic marinara sauce following my meatball recipe as a heartier option.
Tips
To wrap the tortillas up, simply roll them up, or fold them like a fan by folding the bottom first followed by the two sides.
You can add lunchwrap or tinfoil around the base to keep everything nicely in place.
Be generous with the sauce or your wraps will be dry.
Get creative. You can easily change up all ingredients to suit your taste and use up any leftovers from your fridge. Check the ingredient section above for wrap ideas galore!
Serving
Enjoy meatball wraps with a summery salad, your favorite greens, or simply on their own. They're perfect for picnics, lunchboxes and make an excellent quick lunch or dinner.
Sign-up for my newsletter for more from-scratch recipes.
Recipe
Meatball Wraps
Meatballs wraps make an incredibly quick and easy lunch or dinner. You can put them together with leftover or meal-prepped meatballs in less than 10 minutes.
Instructions
Wash the lettuce leaves and wrap them in a clean kitchen towel to dry.

Warm up the meatballs in the oven or microwave until they're fully heated through.

To assemble the wraps, start with a tortilla wrap and add a lettuce leaf. Place 4 meatballs onto the lettuce and add the sauerkraut on top of the meatballs. Drizzle with aioli and fold them up. Hold the wrap in place with a sleeve of parchment paper. Enjoy

16 meatballs,

4 tbsp red cabbage sauerkraut,

2 tsp aioli,

4 tortilla wraps
Notes
You can easily customize the filling to your taste. Check the ingredient section in the post for more ideas.
Nutrition
Calories:
255
kcal
Carbohydrates:
16
g
Protein:
12
g
Fat:
15
g
Saturated Fat:
5
g
Polyunsaturated Fat:
2
g
Monounsaturated Fat:
6
g
Cholesterol:
41
mg
Sodium:
375
mg
Potassium:
270
mg
Fiber:
2
g
Sugar:
2
g
Vitamin A:
1784
IU
Vitamin C:
7
mg
Calcium:
65
mg
Iron:
2
mg
FAQ
How long do the wraps last?
I suggest meal prepping all ingredients, especially the meatballs, but make the wraps fresh. They will last in a lunchbox for some hours but they taste best fresh.
Do you have to heat up the wraps?
No. Store-bought wraps are typically pre-cooked and there is no need to heat them up.